Description
Be vibrant with Revolution Reloaded Marvellous Mattes. Containing a rainbow of shades, from striking red to bright yellow and bold purple, Makeup Revolution Reloaded Eyeshadow Palette Marvellous Mattesis ideal for the creation of statement looks. For maximum color intensity, spritz your brush with fixing spray before application.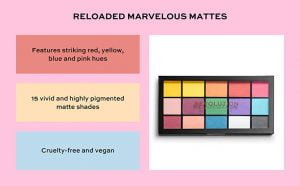 VIBRANT COLORS, Go bold! Revolution Re-Loaded Marvellous Mattes is a vibrant new colorway of our bestselling eyeshadow family.

EYE-CATCHING COLORS, Eye-catching and incredible value with 15 generous pans of shadow, it takes color to the next level. Make a statement with vivid and highly pigmented matte shades. Add a playful burst of color with striking reds, yellows, blues, and pinks, and bring your look together with versatile transition shades in tan and brown.
MAKEUP TIP, Spritz your makeup brush with Revolution Hyaluronic Fixing Spray to amp up the pigment.

CRUELTY-FREE, Created with natural ingredients and a formula that features 100% cruelty-free additives. Being vegan friendly and gluten-free, this cream makeup contour kit is universally flattering.

BLENDABLE MATTES, This Revolution makeup palette with blendable mattes allows a creative, bold, and opaque makeup look with the buildable color payoff and without unnecessary smudging.