Description
An opaque, feather-light lipstick, available in a demi-matte finish and a light satin finish, for comfortable, long-wearing lip color. Whether it is summer, winter, or rainy season, this matte lipstick works perfectly in all seasons. Generally, this lipstick is smudge-free and really easy to remove when you want to remove your lipstick.
It also works as a lip balm because it keeps your lips moisturized and now most of the matte lipsticks come with sunscreen which is even better to protect your lips from harmful sun rays.
These matte lipsticks are really long-lasting and also need to be reapplied but just once a day. They will not get off with just a coffee or sandwich. You don't have to worry anymore about your looks. In the heat, this matte lipstick will have no effect on your skin.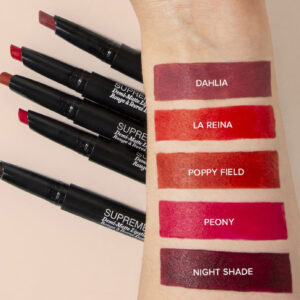 This Matte lipstick color gives a very neat, natural yet classy and bold look. And also suitable for every skin tone. It will give a clean simple look when you will apply it once, and if you will apply more, then it will give you a different look.