Description
This is an unscented version of the Safe Sun designed for those who are sensitive to fragrance and essential oils. PURITO Centella Green Level Unscented Sun Spf50+ Pa++++ protects the skin from both UVA and UVB rays. It effectively soothes the skin by using concentrated super Centella with a high level of Madecassoside. It has a smooth and clear application that keeps your skin looking fresh all day and wears beautifully underneath makeup. This sunscreen is for everyday wear, it is less likely to cause eye-stinging or skin irritation.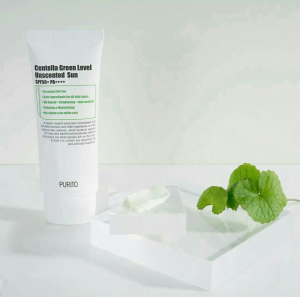 If you couldn't use sunscreen because you were put off by its strong scent or because your skin doesn't take well to natural essential oils, you should try the new PURITO Centella Unscented Sun. Use the highly concentrated super Centella and enjoy circa-care with increased content of madecassoside. The new circa-care enhances the skin barrier to provide better protection from strong ultraviolet rays and external stimuli.
The product contains mild and safe ingredients that are EWG Green Level Grades 1 and 2 to avoid side effects of the existing chemical sunscreens such as eye and skin irritation. It doesn't cause any discomfort, even when applied to sensitive skin. If applying sunscreen before makeup was a burden because of the white cast and the stifling feeling,
Strong Points
Using our proprietary technology, we masked the odors of all its raw ingredients to offer you a completely unscented sunscreen.
Suitable, even for sensitive skin, as it does not contain natural essential oils.
It provides more effective protection from external stimuli and ultraviolet rays by strengthening the skin barrier with the upgraded, highly-concentrated super Centella component.
 The product contains only EWG Green Level Grade 1 and 2 components and does not cause skin or eye irritation.
Spreads in a thin and transparent layer to facilitate the application of makeup.
Uses SPF50+ PA++++ and photo-stable UV filter to provide soft yet powerful protection from ultraviolet rays
Superb Tip!
How to apply the sunblock properly and smartly!
If your skin is dry, apply some CICA cream on your skin before using the sunblock, to form a layer of moisture.
Squeeze out onto your index finger, from the middle creases to the fingertip. Don't apply the whole amount all at once; apply in small portions to cover the desired area of your skin by gently tapping with your finger and spreading the sunblock lightly around.
Reapply the sunscreen every 3 hours.