Description
PURITO Centella Green Level Recovery Cream contains 50% Centella Asiatica Extract, which helps to soothe skin problems with an antibacterial effect and stimulate collagen formation in the dermis layer. Asiaticoside, Asiatic Acid, Madecassic Acid, and Niacinamide are the main ingredients for improving scars and strengthening the weakened skin barrier, and Mild Cica Cream that can be safely used on sensitive skin.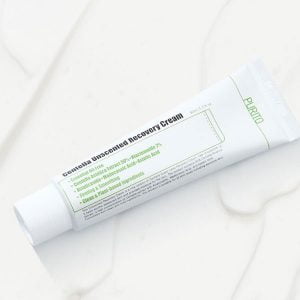 Formulated with 50% Centella Asiatica, PURITO Centella Green Level Recovery Cream boosts the skin barrier, lightens dark spots, smooths fine lines, and moisturizes the skin, all in a light textured cream. Unlike other "circa" products, PURITO does not use a Centella extract that is mostly water. Rather, this cream features a powder form that is rich in asiaticoside, Asiatic acid, and madecassic acid, which have been shown to stimulate collagen synthesis and have anti-inflammatory effects. All the ingredients in this powerful yet non-irritating cream have a rating of EWG level 1 (green/safe), including niacinamide, shea butter, and Tremella fuciformis extract, so it's great for even sensitive skin types. Macadamia oil, argan oil, and ceramides deeply moisturize skin, while witch hazel soothes as it minimizes the appearance of pores. Tested by the Korean Institute of Dermatological Science to be non-irritating, this cream is free of 20 potentially irritating ingredients and known allergens. Because no preservatives are used in this cream, it is recommended that you store this cream in the refrigerator (like you would fresh fruit) and use it as soon as possible.
KEY POINT:
1. Instead of using just Centella Asiatica water, Centella Asiatica Leaf is boiled in water and a solvent is used to separate and extract only certain substances.
2. The cream is composed entirely of EWG Green Level ingredients, with none of the 20 essential ingredients and 26 allergens, so it is safe for sensitive skin.
3. The disadvantage of natural cosmetics, which quickly oxidizes in air, is complemented by tubular containers.
4. Common Cica creams are heavy formulations, which can cause clogging and problems. Hence, we created an easy-to-use lightweight texture that contains a high concentration of ingredients.
HOW TO USE PURITO Centella Green Level Recovery Cream:
Apply an appropriate amount thoroughly onto the face, then gently smooth for better absorption.