Description
Helps promote a peaceful sleep so you can wake up refreshed and revitalized. Nature's Bounty Fast Dissolving Melatonin is a great choice if you experience occasional sleeplessness or jet lag, or want to improve the quality of your rest.
Melatonin helps you fall asleep faster and stay asleep longer. Simply place the quick-dissolving tablet under your tongue for 30 seconds before swallowing. You will enjoy the explosion of great natural cherry flavor and the benefits of melatonin!
Promotes Relaxation & Sleep
100% Drug-Free Sleep Aid
Nature's Bounty Quick Dissolve Melatonin comes in a Natural Cherry Flavor.
Suitable for Vegetarians
These quick dissolve tablets are Gluten Free.

Melatonin is a natural hormone found in the body

Supports rest and relaxation to aid with occasional sleeplessness

Nutritionally supports sound sleep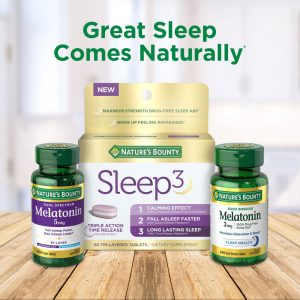 Health Concern: Sleep Support.

Instructions: For adults, take one (1) quick dissolve tablet at bedtime as Melatonin may produce drowsiness. Place tablet under tongue for 30 seconds before swallowing.