Description
Tiring days and sleepless nights can harm your beautiful eyes and make you look dull and tired with those stubborn dark circles. Whatever the reason for your dark circles may be – melanin deposit, iron deposit, stress, pollution or sleepless nights, Mamaearth bye bye dark circles eye cream with cucumber & peptides for dark circles is here to help you rejuvenate your eyes with the goodness of natural ingredients. Cucumber, which is known for its cooling and skin lightening properties, soothes under-eye skin and reduces dark circles, Hawkweed Extract, Peptides & Daisy Flower Extract, just like magic, reduce melanin deposition in the skin to a great extent, which ultimately reduces the visibility of dark circles.

REDUCES DARK CIRCLES
Skin lightening and tightening properties of Cucumber & Peptides in this eye cream diminish unwanted dark circles caused due to melanin deposit, iron deposit, stress & pollution.
NOURISHES UNDER-EYE SKIN
The soothing and nourishing effects of Hawkweed and Daisy extracts help target the appearance of dark shadows, for brighter eyes that look well-rested.
TRAVEL-FRIENDLY
This cream comes in a sleek tube with a fine nozzle, making it easy to apply and to carry in small bags, purses, pockets, etc.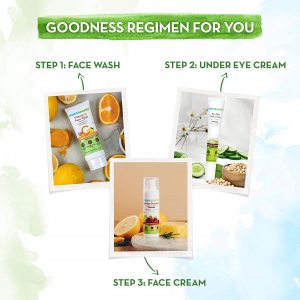 How to use Mamaearth bye bye dark circles eye cream with cucumber & peptides for dark circles:
Step 1 : Take a pea-sized amount of cream on your fingertip
Step 2 : Apply dots under the eyes and massage in a circular motion
Step 3 : Massage till the cream is completely absorbed
FAQs:
Is it Safe for Sensitive Skin?
Yes, it is safe for sensitive skin, but we would recommend doing a patch test before. Apply a small amount on the inside of your wrist and let it stay for 10 minutes to see if it suits you.
How is this cream different from Under Eye Cream from the same brand?
Under Eye Cream by Mamaearth is meant for puffy eyes, while Bye Bye Dark Circles with a blend of efficacious ingredients is meant especially to help reduce dark circles.
Can my teenage son/daughter use it?
Yes, teenagers, whether boy or girl, can use the under-eye cream as it is made with the best and safest ingredients and is entirely toxin-free.
How often can I use this?
Use it every day before bedtime for best results
Does it lighten the under eye area?
Yes, with regular use, it nourishes the under eye area and lightens dark circles.
Disclaimer:
The product contains natural ingredients & may change color and fragrance, without losing effectiveness.
Even natural ingredients can cause and trigger existing allergies. A patch test is recommended.
In case of any rashes or allergies, please consult a specialist.
All images shown are for illustration purposes only, actual results may vary.
For external use only. Store in a cool & dry place.