Description
Innisfree Super Volcanic Pore Clay Mask contains super volcanic cluster capsules, which powerfully adsorbs sebum to intensively resolve pore concerns.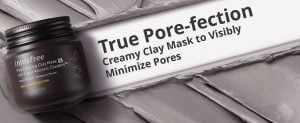 This new formula is infused with double the amount of Volcanic Ash that of the original version, especially suitable for oily skin
Innisfree Super Volcanic Pore Clay Mask combines 5-in-1
functions: Tightens pores, Removes sebum, Exfoliates dead skin cells
Offers deep cleansing
Enhances skin tone, Provides cooling effects
How To Use:
After washing your face, gently apply toner to your face to even out your skin texture. Then, apply the mask over your entire face, avoiding your eye and lip areas. Rinse off the mask with lukewarm water after 10 minutes.