Description
The Benefit of Using Green Tea Seed Serum
A moisturizing serum with organic Jeju green tea and green tea seeds that hydrate your skin from deep within!
1. More moisture and freshness with 100% green tea.
Rich in amino acids and minerals, green tea from Jeju's own green tea leaves hydrates your skin.
2. Dual Moisture-Rising Technology™ derived from green tea and green tea seed oil
The fresh green tea deeply hydrates your skin and the green tea seed oil creates a strong moisture barrier to keep your skin moisturized longer.
3. The first thing to apply after a face wash!
As the first skincare product you use, it helps hold moisture in your skin and prevents moisture loss.
*Product suggestions for the 3 most common types of skin
– oily skin: The green tea fresh line
– combination skin: The green tea balancing line
– dry skin: The green tea moisture line
– special moisturizing and nourishing care line: The green tea seed line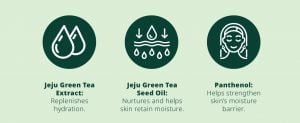 How To Use:
Pump a dollop of the serum on your hand and apply it on your face and neck.
NB: Don't forget to do patch test before application.