Description
COSRX Hyaluronic Acid Intensive Cream boosts moisture content in your skin and seals it inside, protecting your skin from further loss of hydration.
Recharge and Lock in Moisture: COSRX Hyaluronic Acid Intensive Cream is designed to deliver moisture deep into your skin. Locking the moisture into your skin, the cream provides long-lasting nourishment and hydration.

Thirst-Quenching: Your parched skin will thank this ultimate thirst quencher which has an intense moisturizing quality. None-oily yet greatly hydrating, it will leave your skin smooth and supple.

Key Ingredients: Hyaluronic Acid, found naturally on our skin, helps your cells to retain moisture. With additional antioxidizing benefits, it is safe for all skin types.

Plump and Dreamy Radiance: This cream is the key to plumping out the fine lines and delivering the glow. Grasp on to your bright youthful skin texture while hydrating from its roots.

COSRX Standards: Clean Beauty – All COSRX products are formulated with skin-friendly ingredients that alleviate irritated skin. Hypoallergenic, Dermatologist tested, Cruelty-FREE, Parabens-FREE, Sulfates-FREE, Phthalates-FREE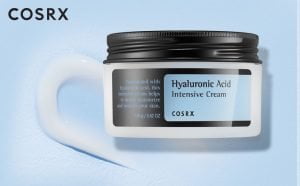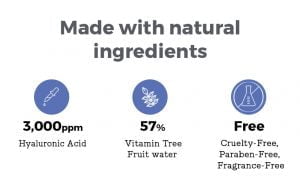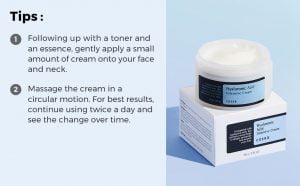 How to use:
After Hyaluronic Acid Hydra Power Essence, gently apply a proper amount of the cream to the face, avoiding the eye and mouth area.
Tap the area where the cream was applied gently in order for it to be absorbed along with the skin texture.