Description
Viktor & Rolf Spicebomb Extreme is a fresh and spicy fragrance for men that incorporates hints of vanilla and tobacco. The notes in this cologne consist of caraway, tobacco, vanilla, lavender and black pepper. The caraway provides a nice, light spice that is sweet and sharp, while the black pepper gives off a lively, hot spiciness with earthy facets. The tobacco in this fragrance provides an essence that is slightly sweet yet warm, rich and masculine while the lavender provides a clean, aromatic scent. The vanilla note enters the mix with its sweet, cozy warmth. Spicebomb extreme was launched in 2015 by viktor & rolf, which is a fashion house based in amsterdam.
The house is named after founders rolf snoeren and viktor horsting. Both men were born in 1969. They met while attending the academy of the arts at arnhem to study fashion. They slightly resemble each other. Their fashion shows are quite unique, featuring clothing that can be seen as artistic presentations. In fact, some of their designs have been featured in world-renowned art museums. Viktor & rolf released their first fragrance, flowerbomb, in 2004. This spicy fragrance comes in a unique bottle. It is shaped like a hand grenade and features a copper ring. Apply it to pulse points to fully enjoy the scent.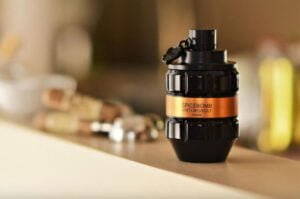 All products are 100% original, authentic name brands. We do not sell fake or counterfeit products.