Description
The Fragrance
Be the Man of Today: Every hour of every day, with BOSS BOTTLED
BOSS BOTTLED unveils the next chapter of the Man of Today campaign with a new mission: to inspire men to show the world who they are through their actions, and the values by which they live their lives.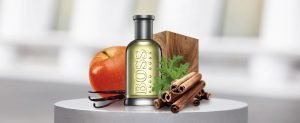 "The Man of Today campaign is all about representing the idea that actions speak louder than words – a principle I've always tried to embody and live my life by." Chris Hemsworth – BOSS BOTTLED ambassador.
The elegant, woody accords of the classic aftershave for men reflect a complex structure that is as versatile and rich in contrasts as the man who wears it. Hour by hour, the scent unfolds and takes on a different quality that inspires and stays with the BOSS man throughout his day. The result is an aftershave that remains as contemporary and relevant today as it was at launch 20 years ago, a symbol of masculinity that has been effortlessly incorporated into the daily routines of men around the world.
The perfect gift for your man of today.
The Collection
Boss Bottled Eau de Parfum. This fragrance of contrasting forces combines the freshness of apple and bergamot notes with intensely addictive cardamom and the dark elegance of vetiver.
Boss Bottled Tonic. Reveals a new facet of modern masculinity, inviting the Man of Today to refocus on his path to success. It is an inherently masculine fresh fragrance.
Boss Bottled Infinite. Represents the Man of Today's aspiration to reconnect with his inner self. An energizing and sensual perfume that combines the freshness of citrus notes and the intensity of aromatic, woody notes.