Description
What does it do for you?
If you've noticed a few blemishes, there's a cocktail of oil, makeup, and grime building up in your pores and your skin is screaming out help, our Tea Tree Skin Clearing Facial Wash is here to save the day. It's a refreshing tea tree face wash that will help your skin find balance.
If you're prone to excess oil and blemishes, it's time to come face to face with a regimented skincare routine. The first step, meet your new tea tree cleanser. Our face wash has been formulated with blemished skin in mind, to help give you that refreshed feeling. It's hard-working, vegan, and enriched with Community Fair Trade tea tree oil from Kenya. And to top it off, The Body Shop's tea tree face wash has been a lengthy trusted favorite for its ability to help oust grime to reveal more mattified, clearer-looking skin.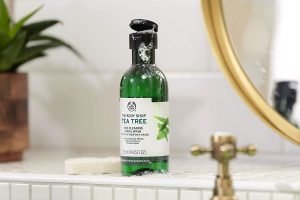 You can enjoy that squeaky clean feeling with every use and live beautifully confident every day knowing that this little guy is working hard behind the scenes.
How to use The Body Shop Tea Tree Skin Clearing Facial Wash:
Splash your face with a bit of lukewarm water. Avoid hot-hot-hot H20, which can cause a red-faced reaction (Oops!)
Massage our face wash onto damp skin in circular motions, building up a refreshing grime-lifting lather as you go.
Carefully rinse your face.
Follow up with our Tea Tree Skin Clearing Mattifying Toner for best results. Use daily as part of your normal skincare routine.