Description
The Body Shop Shea Butter Richly Replenishing Shampoo is enriched with Community Fair Trade Shea Butter from Ghana, handcrafted by women who have used shea butter to intensely nourish dry hair for generations.
This gentle cleansing formula won't leave your hair feeling lacking in moisture and is perfect for dry hair that is prone to damage. Treat your hair to this nutty goodness to enjoy locks that look healthier and feel richly renewed.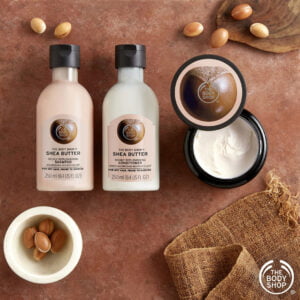 For dry, prone to damage hair
Leaves hair feeling intensely nourished and richly replenished
Hair looks healthier and less frizzy
Reduces hair breakage
Nutty scent and rich texture
Enriched with Community Fair Trade shea butter from Ghana
100% vegan
Based on a user trial of 103 women with Shea Butter Richly Replenishing Shampoo, Conditioner, and Hair Mask.
Based on in-vitro testing with Shea Butter Richly Replenishing Shampoo, Conditioner, and Hair Mask.
How To Use:
Prior to application of the Shea Butter Richly Replenishing hair shampoo. First, immerse hair in warm/hot water during your shower to open up cuticles and loosen oil within the hair. Recommended to rinse for at least 1 minute before application.
The thicker your hair, the more product you should squeeze onto hair. For a safe guideline, avoid using a handful of shampoo on the head.
Lather your hair into a foam by massaging your scalp and working your fingers from the roots to the tips of your hair.
Lastly, rinse hair through cold water to seal cuticles in order to keep moisture within for a healthy shine after.
Use Shea Butter Richly Replenishing Conditioner and Hair Mask for optimal results.