Description
St. Ives Soothing Body Wash Oatmeal And Shea Butter – 650ml. Keep calm and soothe on! Made with 100% natural oatmeal and shea butter extracts, this body wash soothes the mind, body, and soul while cleansing skin with a sudsy sumptuous lather leaving it feeling smooth all over. It can also be used as a hand soap to effectively wash away dirt and bacteria.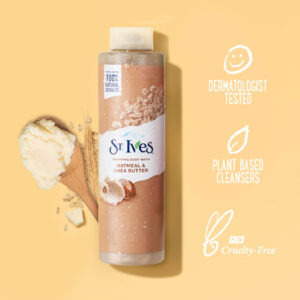 How to use:
Pour a generous amount of body wash onto your hands or favorite squishy pouf!
Lather over wet skin, soaking up the incredible scent.
When you're done, rinse off!
Enjoy skin that feels smooth all over!