Description
Mamaearth ubtan facewash for tan removal ensures exfoliation to unravel fresh and healthy skin underneath. Licorice Extract repairs sun damage while Carrot Oil removes tan from the upper layer of the skin. It is enriched with Walnut Beads which exfoliate dead skin cells. Antioxidants in turmeric protect the skin cells from free radical damage and lighten the skin tone. Dermatologically tested and pH balanced, this face wash gently takes care of your skin. It leaves skin soft and smooth and does not contain any harmful chemicals like SLES, Sulfates, Phthalates, and Artificial Fragrances.
Tan Removal
Carrot Seed Oil removes tan from the upper layers of the skin while restoring natural fairness.
Sun Damage Repair
Licorice helps repair sun damage caused by exposure to the harsh rays of the Sun.
Exfoliates Dead Skin
Walnut Beads gently exfoliate dead cells to reveal the natural glow of your face. They make the skin smooth and refreshed.
Lightens Skin
Turmeric, rich in antioxidants, protects the skin cells from free radical damage and lightens the skin tone while improving complexion.
How to Use Mamaearth ubtan facewash for tan removal:
Step 1 : Apply a coin-sized amount of face wash on a damp face.
Step 2 : Work up a mild lather and scrub your face in gentle, anti-clockwise circular movements.
Step 3 : Rinse with lukewarm or tap water. Pat dry your face with a clean towel.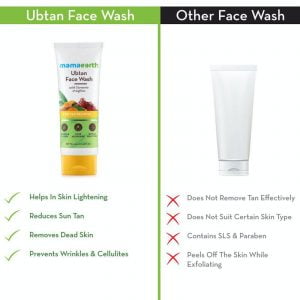 FAQs:
How Often Should I Use It?
Use it regularly, twice a day for best results.
How Long Will It Take for The Face Wash To Show Results?
As the face wash is made of natural ingredients, hence it will depend on the gravity of your skin concern. However, visible results should be seen within 6-8 weeks of regular use.
Can Teenagers Use It?
Absolutely, it can be used by anyone who is above the age of 15 years as it is made with the best natural and toxin-free ingredients, which are ideal for young skin.
Will It Make My Skin Dry?
You should always moisturize your skin after cleansing with a face wash.
Disclaimer:
The product contains natural ingredients & may change color and fragrance, without losing effectiveness.
Even natural ingredients can cause and trigger existing allergies. A patch test is recommended.
In case of any rashes or allergies, please consult a specialist.
All images shown are for illustration purposes only, actual results may vary.
For external use only. Store in a cool & dry place.