Description
WHAT IT IS
EFFACLAR H Cleansing Cream is a hydrating facial cleanser for oily skin weakened by drying treatments.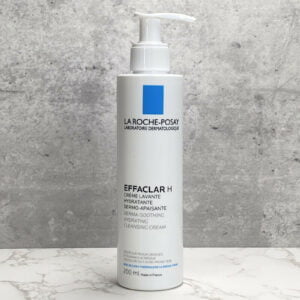 HOW TO APPLY
ANTI-FRICTION APPLICATION TECHNIQUE
Lather with water in the palm of the hand. Apply and spread overface as follows: With your fingertips, smooth the skin starting between the eyebrows, up to the hair base, and spreading the cream from the middle of the forehead out towards the temples.
Repeat gently 3 times.
Using the palms of the hands – flat against the skin – smooth the face starting from the chin, up to the nose. Then dab outwards the sides before going back down to the chin.
Repeat gently 3 times.
Rinse with water and gently pat dry with a towel.
TEXTURE
Ultra-comfortable smooth cleansing cream.
With La Roche-Posay Thermal Spring Water.
KEY BENEFITS
EFFACLAR H Cleansing Cream gently cleanses, purifies and soothes skin to restore comfort.
Reduces the side effects or felt of over-drying treatments.
Respects the barrier function of the skin.
THE SCIENCE BEHIND
Tested under dermatological control in combination with over-drying treatments.
Non-comedogenic.