Description
Beauty Green Tea
the ingredient born for the skin from Jeju
Innisfree No. 1, "Beauty Green Tea", a specializing moisturizing ingredient developed after the study of 2,401 Korean green tea varieties. We started research to find the best one for moisturizing the skin, and finally cultivated Beauty Green Tea containing rich amino acids to deliver exceptional hydration for healthy-looking, dewy skin.
Fresh Green Tea Water 2.0™ is made by extracting nourishing ingredients from fresh beauty green tea leaves. It is fundamentally different green tea water with 3.5 times more enriching properties than the original with 16 kinds of amino acids, to provide excellent moisturizing benefits to the skin.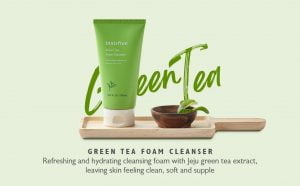 Refreshing and hydrating cleansing foam
Formulated with Jeju Green Tea extract cleanse away dirt and impurities leaving skin feeling clean, soft, and supple.
A rich foam cleanser that removes impurities from inside the pores
Beauty Green Tea is combined with saponin-enriched green tea root extract to keep the skin hydrated even after cleansing.
Dense foam! Clean pores! All impurities are gone from the pores!

 With dense and luxurious foam, this moisturizing foam cleanser takes away impurities from inside the pores and leaves skin feeling dewy.