Description
Armani Si Perfume by Giorgio Armani, Giorgio Armani launched Si Armani perfume to the world in 2013. Famed perfumer Christine Nagel receives accolades as the mastermind behind this fragrance. Si by Giorgio Armani has succeeded in capturing the attention of women of all ages due to its alluring combination of feminine and sophisticated scents. Any woman searching for a fragrance that is the essence of modern femininity will need to search no further than Si: Giorgio Armani has attained this feat.
The composition of perfumes is a fascinating study. Every fragrance contains a blend of top notes, middle notes, and base notes. The top notes hit almost immediately after applying perfume, but they last mere moments. Middle notes replace the top notes, staying about one hour after application. Following the fade of the middle notes, the base notes take over. These heady scents will last for several hours, and they generally make the most memorable impression. Si by Giorgio Armani features a rich combination of top, middle, and base notes. The top notes of Giorgio Armani Si perfume include Italian blackberries and white cedar wood. The middle notes include cassis, nectar, rose de mai, and freesia. Base notes round out the scent with chypre accord, musky wood, orcanox, and vanilla patchouli.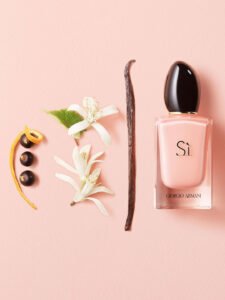 The bottle holding a fragrance is nearly as important as the perfume. Si achieves an elegant and stylish display thanks to the simplicity of its bottle. A clean shape and quiet hue make up the body of every bottle of Si. Giorgio Armani chose a cap with a sharp black contrast, which seems to fit the scent perfectly.
All our products are 100% original, authentic name brands. We do not sell fake or counterfeit products.