Description
WOW Apple Cider Vinegar Shampoo powered with pure, unfiltered & unpasteurized Apple Cider Vinegar, Sweet Almond Oil & Argan Oil. Totally free of harmful sulfate & paraben. Brings silkiness, strength, and gloss to hair.
Powered by 100% pure apple cider vinegar: Apple cider vinegar is naturally high in acetic acid and has a pH level that is close to that of human hair. Regularly rinsing with this vinegar can help bring your scalp and hair to their ideal acidity, especially if you have oily hair. Detoxify the hair & scalp: by clearing up the buildups caused by Dust, Pollution, Dead Scalp Cells & Styling Products. Reduces Dandruff: for a lighter, cleaner & and itch-free feel. Beautiful & strong hair: brings Silkiness, Strength & Gloss to your hair. Reduces frizz: Frizzy hair is caused by lifted cuticles on the hair. Smooth down the cuticles with apple cider vinegar and you'll enjoy an overall smooth, frizz-free mane. For all hair types: Loved and used by thousands of users daily with different Hair Types. You may want to use a conditioner or 2 drops of Hair Oil if your hair type is dry.
UNREFINED APPLE CIDER VINEGAR: The Wow shampoo contains 100% unrefined apple cider vinegar, providing antifungal, antibacterial, antimicrobial properties.

ORGANIC AND VEGAN: Wow Skin Science shampoo is made with all organic and vegan ingredients.

DETOXIFY YOUR SCALP: With the combination of apple cider vinegar, sweet almond oil, and Moroccan argan oil, this shampoo removes buildup and residue, detoxifying your scalp.

BALANCE THE pH OF YOUR HAIR: Stimulatebetter circulation to the hair follicles, strengthening hair roots and healing damaged hair

100% SATISFACTION GUARANTEE: If you're unsatisfied with your purchase of Wow Skin Science Apple Cider Vinegar Shampoo, contact us for a full refund.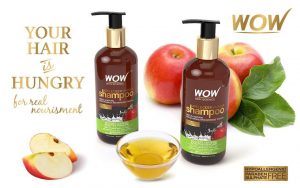 How to Use:
Wet your hair with lukewarm water. Massage on a small amount through the wet hair & scalp.
Lather & massage the scalp using your fingertips (not nails). Leave the lather on for 5 minutes.
Wash it off clean & follow with cold water (37.8℃ is the sweet spot!) rinse.