Description
Vaseline Lip Therapy is Clinically proven to help heal dry lips. Comes in a steel tin inspired by our original look.
Vaseline Lip Therapy  Provides long-lasting moisturization to help heal dry lips
Non-sticky, non-greasy formula spreads on smoothly
Appealing cocoa and vanilla scent
Gives lips a natural, glossy shine
Provides the healing benefits of Vaseline® Jelly in a formula custom-made for lips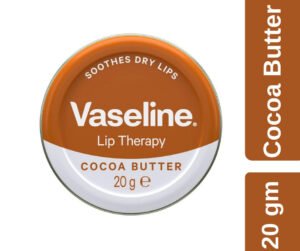 Vaseline Cocoa Butter Lip care contains with Vaseline Petroleum Jelly and rich cocoa butter, instantly softens and soothes, helping to repair dry lips and helping protect them from extreme temperatures and indoor heat that can leave your lips dried out. The long-lasting moisturizing effects keep your lips healthy, soft, glowing, and smooth.
Cocoa butter is an emollient that is a great source of natural antioxidants. It adds a protective hydrating layer to lips, and provides long-lasting moisturization. Petroleum Jelly and cocoa butter are said to have healing properties. Cocoa butter help you get smooth and glowing lips. Thus, a lip balm infused with cocoa butter will not only keep your lips nourished and moisturized but also make them soft and supple.
If your lips are very dry, you can try exfoliating, using a product that contains SPF, and avoiding licking your lips, which can be a major cause of dryness.
Made in Poland