Description
Our White Musk® Fragrance Mist will leave you feeling empowered to express yourself with its earthy, floral and sensual scent.
A softer version of The Body Shop's classic White Musk® fragrance, this delicate all-over body mist leaves you smelling like flowers and feeling unstoppable from the moment you step out of the shower. With a fresh balance of clean aldehydes, comforting jasmine and our sensual, cruelty-free musk, it leaves you feeling empowered, uplifted, maybe even nostalgic.
Spray all over and enjoy the velvety notes that give our White Musk® collection its signature scent. It's a great little travel companion too. Keep it in your handbag for easy top-ups throughout the day. And if you want to keep the dream alive, layer up with our White Musk® Body Lotion or Body Wash.
This fresh White Musk® mist is the lightest way to wear the fragrance. Just spritz it on and away you go.
Our Fragrance Mist now also comes in a recyclable bottle made with 31% recycled glass, so you can love your planet every time you musk up.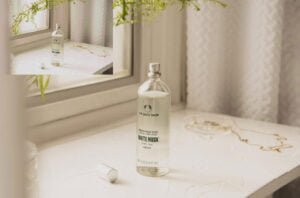 How to use:
Spritz yourself head-to-toe with our White Musk® Fragrance Mist after bathing or showering.
Wherever the day takes you, bring it along for confidence-boosting top-ups.
Want that fresh fragrance to last even longer?.