Description
NIVEA SUN Baby Protect & Care Sun Lotion SPF 50+ immediately protects your little one against sunburn and long-term skin damage caused by sunlight. The sunscreen has been specially formulated for your baby's sensitive skin – the caring and moisturizing formula with Dexpanthenol is unscented and especially gentle to the skin. The sunscreen offers highly effective UVA and UVB protection. The skin compatibility of this sunscreen has been dermatologically proven. It is important to keep your babies and young children out of direct sunlight – no matter the SPF.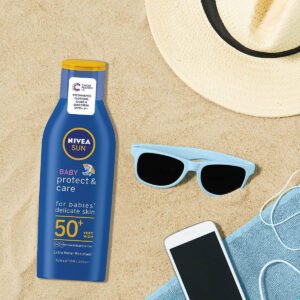 Protect the whole family with our Kids, Adults, and UV Face Range too! To complete your summer care routine, try our After Sun range.
How to use:
Apply generously before sun exposure, enough to give a visible layer before rubbing in. Allowing to absorb completely.
Reapply frequently, especially after swimming, perspiring, and toweling.
Even when protected avoid over-exposure to the sun.