Description
Nature's Bounty Melatonin 1 mg is a hormone produced naturally in the body that is closely involved in the natural sleep cycle. It is an excellent option if you experience occasional sleeplessness or jet lag, or if you want to improve the quality of your rest.
Sometimes it's hard to relax after a long day, so melatonin helps you fall asleep faster and stay asleep longer.
Promotes Relaxation & Sleep
100% Drug-Free Sleep Aid
Clinically Studied Ingredient

Helps to promote relaxation and sleep

Revitalizes the body

Alternative sleep aid for occasional sleeplessness

Clinically Studied Ingredient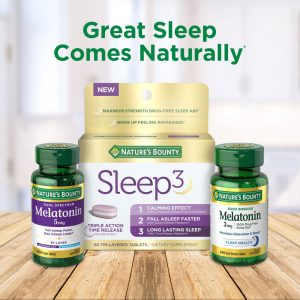 Health Concern: Sleep Support.
Instructions: For adults, take one (1) tablet daily at bedtime as Melatonin may produce drowsiness.