Description
Hangry Hair? Dig into Garnier Ultimate Blends Aloe Vera Hair Food Hair Mask Treatment to nourish and condition hangry hair. Our 3in1 intensive hair treatment can be used in 3 different ways: as a conditioner, rinse-out hair mask, or leave-in conditioner. Super Food for Super Hair! 98% Natural Ingredients and 100% Vegan Formula blended with Aloe Vera and Coconut.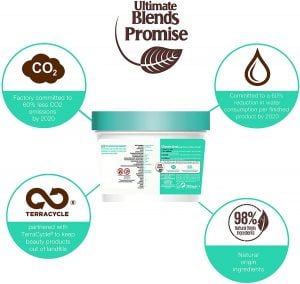 For Normal to Dry Hair: Our Moisturising Aloe Vera Hair Mask Treatment leaves hair up to 4 times shinier after just one use and has an incredibly melting texture to instantly absorb into hair with no weigh down. Discover our full Aloe Vera Hair Food range and try our Aloe Vera and Coconut Shampoo, Conditioner, and 3in1 Hair Treatment for normal to dry hair.
How to use Garnier Ultimate Blends Hair Food Aloe Vera 3 in 1 Hair Mask Treatment:
As a conditioner: on wet hair, to instantly smooth & detangle hair without weighing down.
As a mask: on wet hair, leave for 3mins and rinse out to leave hair feeling intensely nourished & beautifully smoothed.
As a leave-in: on wet or dry hair, apply a small amount to lengths to tame frizz and leave hair irresistibly smooth.