Description
Afaq means in Arabic – world, universe, horizons – it is a richly exclusive concert of fragrant ingredients, hidden in a luxurious flacon depicting the composition of wood, on a golden foot, set in a black velvet bed, enclosed in a transparent dome – just look at this packaging, you will be tempted to explore the perfume that hides inside.
The opening fresh notes of crisp delicious pear, which is permeated with dazzling flowers, in which it vibrates with the noble beauty of tuberose and the tenderness of jasmine, reveal an intoxicating essence that embraces you.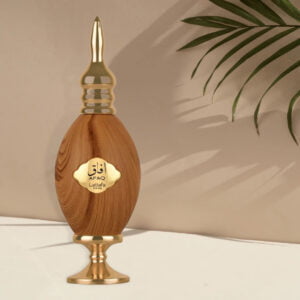 A gourmand scent, this is a trace of Cassie Liqueur made from spicy-carrying, blackcurrant, another of the deliciously sweet accords that flow to you from this uniquely composed fragrance.
Woods are gradually added, dominated by smooth milky sandalwood and a mixture of cashmere, evoking a feeling of warmth and softness, with undertones of musk and fruit with a hint of radiant spice.
All our products are 100% original, authentic name brands. We do not sell fake or counterfeit products.