Description
Some acne spot treatments contain high doses of the acne medication Benzoyl Peroxide, which can irritate skin. It can also cause redness and dryness, which can make acne worse. Our formula contains just 2.5% Benzoyl Peroxide, yet is clinically proven to be so effective that skin starts getting clearer on day 1 – all without over-drying, stinging or burning skin.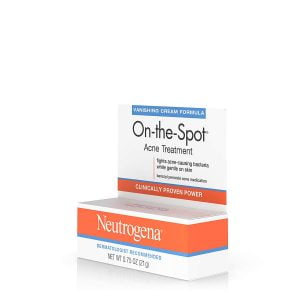 This fast-acting acne spot treatment is so lightweight that it quickly absorbs into skin. And it goes deep down to the pores to kill acne bacteria that cause pimples and helps to prevent new ones from forming.
How to use:
Clean the skin thoroughly before applying this product.
Cover the entire affected area with a thin layer one to three times daily.
Because excessive drying of the skin may occur, start with one application daily, then gradually increase to two or three times daily
if needed or as directed by a doctor.
If bothersome dryness or peeling occurs, reduce application to once a day or every other day.
If going outside, apply sunscreen after using this product.
If irritation or sensitivity develops, stop use of both products and ask a doctor.
Active ingredient: Benzoyl Peroxide 2.5%
Purpose: Acne Medication
Use: For the treatment of acne.
Warnings: For external use only
When using this product: skin irritation and dryness is more likely to occur if you use another topical acne medication at the same time. If irritation occurs, only use one topical acne medication at a time.
Do not use if you have very sensitive skin are sensitive to benzoyl peroxide.
When using this product:
avoid unnecessary sun exposure and use a sunscreen.
avoid contact with the eyes, lips and mouth.
avoid contact with hair or dyed fabrics, which may be bleached by this product.
skin irritation may occur, characterized by redness, burning, itching, peeling, or possibly swelling. Irritation may be reduced by using the product less frequently or in a lower concentration.
Stop use and ask a doctor if irritation becomes severe.
Keep out of reach of children. If swallowed, get medical help or contact a Poison Control Center right away.